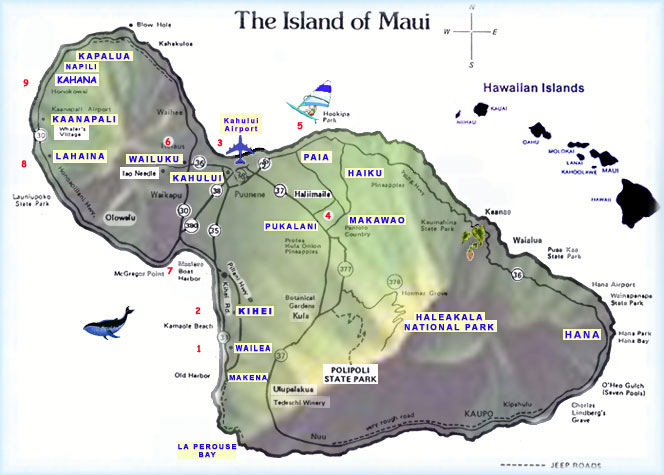 #1 In Wailea
Developers and the availability of water pumped over from the wet side of the Island and volcanic aquifers made the desert disappear and manicured gardens of non indigenous tropical foliage and 5 Star Hotels each with it's own golf course took its place.
Maui Onion
3550 Wailea Alanui Dr.
The Renaissance Hotel Pool
Maui Onion has great burgers and hands down, the most phenomenal coconut crusted onion rings on the Island.
Mulligan's on the Blue
On Wailea's Blue golf course

Three words... Guinness on tap. If you're hankering for bangers and mash or shepherd's pie, stop in at this pub. You'll be greeted by a nearly all-Irish staff, and before you know it, you'll be sipping a heady pint of Guinness. The Wailea Nights dinner show is outstanding -- and a terrific deal to boot. Breakfast is a good value for the area, and the view is one of the best.
#2 In Kihei
Hawaiians used to refer to the area of Kihei as "Kama'ole" which means "barren." Situated on the coast, southwest of Haleakala, the area was and still is dry, hot, dusty and full of non-native kiawe trees and good fishing spots.
In the late 1960's water was piped in to the area from Central and West Maui and developers saw an area ripe for sun-loving tourists. Development of Kihei was done with no real plan in mind. Shopping centers and strip malls popped up every couple of blocks. Today over 60 condominiums, rentals, timeshares and a few small hotels make Kihei one of Hawaii's busiest beach towns. Visitors seem willing for forego lush landscaping to save some money and proximity to good dive sites.
Stella Blues
1279 S. Kihei Rd
Something for everyone; vegetarians, kids, pasta and sandwich lovers, and hefty steak eaters. Grateful Dead posters line the walls, and a covey of gleaming motorcycles is invariably parked outside. It's loud, lively, irreverent, and unpretentious. Sandwiches are the highlight, ranging from Tofu Extraordinaire to Mom's Egg Salad on a croissant to garden burgers and grilled chicken. Tofu wraps and mountain-size Cobb salads are popular. Daily specials include fresh seafood, and everything's made from scratch, down to the pesto mayonnaise and herb bread. At dinner selections range from affordable full dinners to pastas and burgers.
Jaws Fish Taco Island Style Grill
1279 South Kihei Road Kihei
Island Style Mexican Cuisine, Some of the best Fish (ono or opakapaka) chicken or beef tacos, burritos and salads I've tasted on the Island. If you are in Kihei at lunch time and hungry for Mexican there's no better choice.
Eskimo Candy
2665 Wai Wai Place, Kihei, HI 96753
This Seafood Market and Café boasts an array of fresh seafood dishes from fish tacos to fish n' chips. Eskimo Candy also has a wide selection of freshly caught fish with outstanding service and expertise. Simply point to any of the fish and you will be given a cheery description of its taste and texture, how to prepare it, and what sides or butters to accompany it. Note: it's only open Monday-Friday… until 6 pm
#3 In Kahului
Bale'
270 Dairy Road, Maui Market Place food court.
French bakery and Vietnamese Food. Try the Butter Garlic Shrimp, Seafood Pho or Seafood Sandwich.
Las Pinatas
395 Dairy Road, behind Kinkos.
Good Maui/Mex at great prices. We like the fish tacos and kitchen sink burritos.
#4 In Haliimaile Haiku Makawao and Kula
Haliimaile is a small plantation Town, the one time headquarters of the Maui Pineapple company used to be a booming community. It is much quieter now, but still features a small community of homes, a park and one of the best Restaurants on Maui.
The Hali'imaile General Store
features locally grown produce, locally raised beef and fresh seafood caught right off of Maui. All meals are of the highest quality. The general store has won multiple awards and received recognition on programs such as the Today show. The Pineapple upside down cake is to die for.
Haiku, where million dollar homes sit beside, run-down shacks with rusty derelict cars in the front and roosters scratching in the yard. The the area is naturally green, with tropical flowers growing everywhere. The town consists of a post office, a couple of stores.
The community began to flourish around the start of the 20th century. Pineapple became a key crop with the construction of a local cannery in 1904. The quiet agricultural community is home to people from all over the Pacific Rim. An influx of hippies migrated to the area in the 60s and the 80s brought wind surfers.
PAUWELA CAFE
375 West Kuiaha Rd.
575-9242 $3-$7
fresh local ingredients no red meats, no frying fresh baked goods 6 am - 2 pm in the front of Pauwela Cannery

LYN'S CAFE
810 Kokomo Rd.
575-9363 $2.50-$6
sandwiches, salads, noodles 5 or 6 daily plate lunch specials
7 am - 4:30 pm
Colleen's
In Haiku Cannery, 810 Kokomo Rd. $7 to $20

Hidden up a jungly road in Haiku, this is the neighborhood hangout for wind surfers, yoga teachers. For breakfast, the pastries tend to be jam-packed with berries and nuts, rather than butter and flakiness. Sandwiches are especially good, served on giant slices of homemade bread. For dinner you can't go wrong with the beef tenderloin salad or a piping hot pizza.
Downtown Makawao included a number of business dedicated to meeting the needs of the Paniolos and the pineapple workers. The term Paniolo is a Hawaiian word stemming from Espaniol used to describe the Vaquero (Spanish and Portuguese) cowboys who came from Spanish California to teach cattle handling skills.
The town grew further when 34,000 servicemen from the 4th Marine Division trained just down the road during World War II. When the marines went home, many of the shops that were built to support the servicemen went belly up. It became a community of closed storefronts. Makawao finally began to recover as artists congregated to the community in the '80s.
Polli's
Mexican, $7 to $20, 1202 Makawao Ave.

Originally a vegetarian Mexican restaurant Polli's now offers standards such as beef chicken & seafood enchiladas, chimichangas, and fajitas but will also prepare any item on the menu with seasoned tofu or vegetarian taco mix and the meatless dishes are just as good as the real thing. The intimate interior is plastered with colorful sombreros and other cantina knickknacks.
Casanova Italian Restaurant & Deli
Italian, $12 to Over $30, 1188 Makawao Ave.

This family-owned Italian dinner house is an Upcountry institution. The pizzas, baked in a brick wood-burning oven imported from Italy, are the best on the island, especially the tartufo, or truffle oil pizza. The daytime deli serves outstanding sandwiches and espresso. After dining hours, local and visiting entertainers heat up the dance floor.
Kula, in Hawaiian means plain, field, open country, pasture. The name also means source, and Kula, Maui is the source of most of the island's produce from the farms". At an elevation of approximately 3000 feet, Kula produce includes sweet Maui onions, lettuce, tomatoes and sweet corn. Kula is also abundant in eucalyptus and flowers of many varieties. Most of the carnations used in leis throughout Hawaii are grown here. You'll also find proteas, orchids, hibiscus, and jade vines.
Kula lodge
Breakfast
(you'll pass it at about 4000 feet on the way down from Haleakala) has fantastic bananas foster pancakes.
Grandma's Coffee House
Address 153 Kula Hwy
Location At the end of Hwy. 37, Keokea (about 6 miles before the Tedeschi Vineyards in Ulupalakua)

Alfred Franco's grandmother started what is now a five-generation coffee business back in 1918, when she was 16 years old. Today this tiny wooden coffeehouse, still serving homegrown Haleakala coffee, is the quintessential roadside oasis. Grandma's offers espresso, hot and cold coffees, home-baked pastries, inexpensive pasta, sandwiches (including sensational avocado and garden burgers), homemade soups, fresh juices, and local plate-lunch specials that change daily. Rotating specials include Hawaiian beef stew, ginger chicken, saimin, chicken curry, lentil soup, and sandwiches piled high with Kula vegetables. The lemon squares and the pumpkin bread are standouts. Hours Daily 7am-5pm Prices Most items less than $8.95
#5 In Paia
For big time surfers, HO'OKIPA BEACH Park
Paia on the north shore (at the beginning of the road to Hana) is surf central. If your timing is right you will get to see some the worlds top professional windsurfers in action. Considered to be the windsurfing capital of the world, Ho'okipa beach park attracts windsurfers from around the world to challenge the wind and waves. These guys, and girls fly at speeds up to 30mph and jump distances of over 30 feet. This little surfing town has some of our favorite eats.
Jacques (120 Hana Hwy)
has Seafood and French-Caribbean dishes like Jacque's Crispy Little Poulet, spots at the sushi bar inside are snatched up quickly. The prices are good (for Maui). my favorite on the menu is North shore pumpkin fish. Go in the evening just before sunset.
Paia fish market
(The corner of Baldwin Ave and Hana Hwy)
For lunch (cost less then) for the best fish and chips.
Cafe Des Amis
(42 Baldwin Ave)
French crêpes with Gruyère, and Indian wraps with lentil curry are among the choices, all served with wild greens and sour cream or chutney on the side. The giant curry bowls are mild but tasty, served with delicious chutney. For dessert there are crêpes, of course, filled with chocolate, Nutella, cane sugar, or banana.
#6 In Wailuku
Along the eastern slopes of the west Maui mountains, old Wailuku town stands at the entrance of Iao Valley. Ka'ahumanu Church, on the corner of Main and High St. Maui's first permanent church was completed in 1876. Pretty as a picture, this old Congregational church is on the site of the grass thatched original where Queen Ka'ahumanu used to worship. You're welcome at the services where the invocations and hymns are in Hawaiian. The church is locked otherwise, but if you see the caretaker, you may ask for a quick tour.
At 2375 Main St. you'll find the Bailey house museum, home to the Maui historical society. In it you'll find precontact artifacts like a lei of tree snail shells and more recent stuff like Duke Kahanamoku's redwood surfboard. A gallery of Bailey's 1866 landscapes show a Maui we no longer know. Open 10:00 a.m. to 4:30 p.m. , 244-3326
The Hawaiians went into the lush, green Iao Valley to commune with nature and with their gods. The beauty and majesty there combine to yield a serenity that bids the soul to stop and take notice.
A Saigon Cafe
(tel. 808/243-9560)
Hidden under the Main St. Bridge off any main streets in Wailuku it is always packed, a tribute to clean, crisp Vietnamese cuisine -- and the Maui grapevine. Grab a round of rice paper and wrap your own Vietnamese "burrito" of tofu, noodles, and vegetables.
Saeng's Thai Cuisine
2119 Vineyard St
Most dishes can be tailored to your taste buds: hot, medium, or mild. Begin with Shrimp Satey or Coconut soup, move on to such entrées as Evil Prince Chicken (cooked in coconut sauce with Thai herbs), or Scallops Matsuman, and finish up with thai tea and tapioca pudding. Asian artifacts, flowers, and a waterfall decorate the dining room, and tables on a veranda satisfy lovers of the outdoors.
#7 Maalaea
Maalaea is home of the largest recreational Harbor on Maui, The Maui Ocean center (a really nice aquarium), and the Pacific Whale Foundation Store.
Fiesta Time
Fiesta Time Mexican Food at the Harbor Shops, 300 Maalaea Rd.
Phone: (808) 249-8463
#8 Lahaina
Home of the largest Banyan Tree in the Hawaiian Islands in front of Lahaina harbor and the old court house, Between the ruins of the old fort and the rustic Pioneer Inn. You might recognize the Pioneer Inn from Movies like The Hawaiians . All the buildings on front street still reflect the architectural style of colonial Hawaii by design. The Baldwin house (1836) at 696 Front St., has been carefully restored to reflect the period and many of the original furnishings remain. You can view the missionary family's grand piano, the carved four-poster bed, and most interestingly, Dr. Baldwin's dispensary. $3. OPEN: Daily 10-4.
EATS
Aloha Mixed Plate
1286 Front St.
Hidden behind the the Lahaina Cannery Mall, set right on the ocean and have a $7 dollar Lunch with a $100 plate view. this open-air bar and cafe is a great place an Hawaiian style plate lunch. Crispy coconut prawns, taro burgers, shoyu chicken, and kahlua pork are on the menu at this outdoor location.
Penne Pasta
180 Dickenson St
A Low-key and inexpensive night out in Lahaina. Heaping plates of pasta and The salad niçoise overflows with generous portions of olives, peppers, garlic 'ahi, and potatoes. Couples should split a salad and entrée, as portions are large.
#9 Kaanapali, Kahana, Napili
The Upper West Side
Premier hotels line a 3-mile coastline of Kaanapali, a perfect stretch of white sand beach with gourmet dining rooms, lagoons with swans and flamingos in vast landscapes and waterscapes with their mega-pools and thrill slides. You get the picture.
Two championship golf courses have magnificent vistas of sea and mountains.
In the center is Whalers Village, an open air, world-class shopping complex complete with a free admission whaling museum. Every evening at sundown, cliff divers reenact the feat of Maui's revered King Kahekili, who bravely dove from the cliff at Pu'u Keka'a, or Black Rock, into the sea.
Honokowai, Kahana and Napili tend to be more affordable than the other places in West Maui. Honokowai has a beach with tide pools that is ideal for little kids, and Kahana and Napili has a few really beautiful beaches good for swimming and snorkeling. There numerous condos in this area and a few nice hotels that are generally low-key and laid back.
EATS
Hula Grill
Whalers Village, 2435 Ka'anapali Pkwy

Genial chef-restaurateur Peter Merriman's bustling, family-oriented restaurant is in a re-created 1930s Hawaiian beach house, and every table has an ocean view. You can also dine on the beach, toes in the sand, at the Barefoot Bar, where Hawaiian entertainment is presented every evening. South Pacific snapper is baked with tomato, chili, and cumin aioli and served with a black bean, Maui onion, and avocado relish. Spareribs are steamed in banana leaves, then grilled with mango barbecue sauce over mesquite like kiawe wood.

Fish & Game Brewing Co. & Rotisserie
4405 Honoapiilani Hwy
This restaurant consists of an oyster bar, deli counter and retail section, and tables. The small retail section sells fresh seafood, and the sit-down menu covers basic tastes: salads (Caesar, Oriental chicken with won tons), fish and chips, fresh-fish sandwiches, cheeseburgers, and beer -- lots of it. At dinner count on heavier meats and the fresh catch of the day (ahi, mahimahi, ono), with rotisserie items such as grilled chicken, steaks, and duck. The late-night menu offers shrimp, cheese fries, quesadillas, and lighter fare.
The Gazebo Restaurant
Napili Shores Resort, 5315 Lower Honoapi'ilani Hwy

Even locals will stand in line up to half-an-hour for a table overlooking the beach at this restaurant, an actual open-air gazebo. The food is standard diner fare, but it's thoughtfully prepared. Breakfast choices include macadamia-nut pancakes and Portuguese-sausage omelets. There are satisfying burgers and salads at lunch. The friendly hotel staff puts out coffee for those waiting in line. No credit cards. No dinner.